Raymond Haberski, Jr. is Professor of History and Director of American Studies at IUPUI. He also directs the Institute for American Thought and serves a project manager in the Center for the Study of Religion and Amerian Culture. For the 2008–2009 academic year he held the Fulbright Danish Distinguished Chair in American Studies at the Copenhagen Business School Haberski is trained in twentieth century U.S. history with a focus on intellectual history.
---
With a group of his colleagues from around the country, Haberski founded the 
Society for U.S. Intellectual History
 in 2011, a professional organization that grew out of an award-winning blog
 that he has contributed to since 2009. This society also runs a well-regarded annual conference that attracts the attention of junior as well as senior scholars and has been featured in the 
New York Times
 and on C-SPAN.
---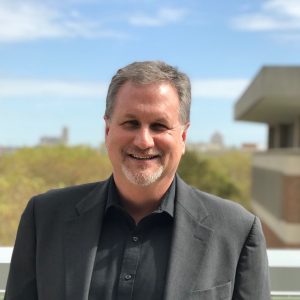 Philip Goff, professor of Religious Studies and American Studies, has been the director of the Center for the Study of Religion and American Culture since 2000.
Goff's research specialization is American religious history, with over 150 articles, reviews and scholarly papers in that area. His recent books include: Themes in Religion and American Culture, which Publisher's Weekly described as "brilliant" and "a breath of fresh air;" The Columbia Documentary History of Religion in America Since 1945, described by American Reference Books Annual as "Welcome and much-needed … [this book] provides texture and depth to lesser-known elements of the spiritual walk;" and The Blackwell Companion to Religion in America. Currently Goff is completing books about the history of religious radio as well as an cultural biography of John Adams that emphasizes his religious life. He is also at work co-authoring a textbook with Sylvester Johnson (Northwestern University) on American religious history for Cambridge University Press.
Goff has served as a legal consultant for church-state cases, co-authored amicus briefs for cases before the Federal Supreme Court, and been an expert witness in legal cases involving religious groups. Dedicated to public teaching, he has been a scriptwriter, consultant, and interviewee for documentaries related to religion in American life for PBS, BBC, and HBO. Answering questions about religion in North America on national and international news and radio programs, as well as in national newspapers, he is recognized as a leading interpreter of religion's role in American life. In recent years he was named to Who's Who Among Teachers, Who's Who in America, and Who's Who in the World.
Professor Goff obtained his bachelor's degree at Nyack College in Religious Studies in 1986. He received his MA in Religious Studies in 1988 from the University of Kansas, where he specialized in method and theory in the study of religion. He completed a PhD in American Religious Studies at the University of North Carolina, Chapel Hill, in 1993. Later that year, he joined the Department of History at California State University, Los Angeles, where he also directed the Social Sciences Major and the Liberal Studies Program at various times. In 2000 he joined the faculty of the Department of Religious Studies at Indiana University-Purdue University Indianapolis, where he teaches, directs the Center for the Study of Religion and American Culture, and co-editors the journal Religion & American Culture: A Journal of Interpretation.
---
Dr. Jennifer Guiliano
 received a Bachelors of Arts in English and History from Miami University (2000), a Masters of Arts in History from Miami University (2002), and a Masters of Arts (2004) in American History from the University of Illinois before completing her Ph.D. in History at the University of Illinois (2010). She currently holds a position as Assistant Professor in the 
Department of History
and affiliated faculty in Native American Studies at the Indiana University-Purdue University Indianapolis.
She has served as a Post-Doctoral Research Assistant and Program Manager at the Institute for Computing in Humanities, Arts, and Social Sciences at the National Center for Supercomputing Applications (2008-2010) and as Associate Director of the Center for Digital Humanities (2010-2011) and Research Assistant Professor in the Department of History at the University of South Carolina. She most recently held a position as Assistant Director at the Maryland Institute for Technology in the Humanities at the University of Maryland where she also served as an adjunct instructor in the Department of History and the Digital Cultures program in the Honor's College.
Dr. Guiliano currently serves on the Executive Council (2013-2016) of the Association for Computing in the Humanities (ACH)and will serve as president of the organization (2016-2018). She is  co-director with Trevor Muñoz of the Humanities Intensive Teaching + Learning Initiative (HILT) and as co-author with Simon Appleford of DevDH.org, a resource for digital humanities project development.
An award-winning teacher and scholar, Dr. Guiliano recently published her monograph Indian Spectacle: College Mascots and the Anxiety of Modern America, which traces the appropriation, production, dissemination, and legalization of Native American images as sports mascots in the late 19th and 20th centuries. She is also completing her co-authored work Getting Started in the Digital Humanities (Wiley & Sons, 2017).
---
Jason M. Kelly is the Director of the IUPUI Arts and Humanities Institute and an Associate Professor of British History in the Indiana University School of Liberal Arts at IUPUI.  He is a Fellow of the Society of Antiquaries of London.
Dr. Kelly received his Ph.D. from the University of California, Santa Barbara and is the author of The Society of Dilettanti: Archaeology and Identity in the British Enlightenment (Yale University Press and the Paul Mellon Centre for Studies in British Art, 2010), lead editor of Rivers of the Anthropocene (University of California Press, 2017), and co-editor of An Anthropocene Primer(2017).
As Director of the IUPUI Arts and Humanities Institute, Dr. Kelly supports IUPUI's research mission by directing the IAHI grant programs, identifying and fostering transdisciplinary research collaborations, and organizing research workshops and symposia.  He also acts as a liaison to the Indianapolis community, and in this capacity facilitates collaborative endeavors including performances, lectures, and research projects.
Dr. Kelly's current research projects focus on the histories of the environment, sciences, and art and architecture . He is currently writing A History of the Anthropocene, a deep history of human-nature relations. He leads a major international collaborative project, Rivers of the Anthropocene, which brings together scientists, humanists, and policy makers to study global river systems and policy. He directs The Cultural Ecologies Project, a research program and PhD track that works with community stakeholders to study and design cultural interventions across multiple scales — from the personal to the neighborhood to the city level.
Dr. Kelly is the recipient of the IUPUI Research Trailblazers Award (2013), two IU Trustees Teaching Awards (2011, 2008), and the IU School of Liberal Arts at IUPUI Student Council Outstanding Academic Adviser Award (2010).